Diwali sms messages
Today is DHANTERAS DHANTERAS GIVE U 10 THINGS IN LIFE D=Dhan H=Health A=Anand N=Nature T=Talent E=Enjoyment R=Responsibility A=Aitbar S=Saubhagya H=Honesty Happy Dhanteras! Deepawali (Dipavali, Divali or Diwali), also known as 'the festival of lights'.  Deepawali 2011 is on 26 October 2011  as Hindu Calendar - India Standard Time. The most popular Hindu festival Diwali literally means 'An array of Lamps.' In 2011 the Diwali dates are – Dhanteras on October 24, Diwali on October 26, Lakshmi Puja on October 26 and Bhai Dhooj on October 28.Deepawali 2011 falls on the Day of 'Amavasyaa' usually in the month of October or November. The most important one is the commemoration of the return of Lord Ram to Ayodhya after 14 years of exile. [caption id="attachment_3498" align="aligncenter" width="300" caption="Diwali 2011"]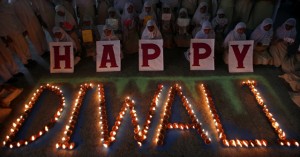 [/caption] In South India, Deepawali is the day in which Lord Krishna killed the demon Narakasura. In Orissa india, the lights are lit to show the path to the spirits of ancestors returning to heaven.In West Bengal, Diwali is celebrated as Kali Puja. It is believed that Goddess Kali killed the demon Raktavija on this day.In Gujarat india, the day after Deepawali is observed as Annakut – New Year's Day.Dhanteras is celebrated two days before Deepawali honors Dhanvantari, the physician of the gods. He is believed to have emerged from the ocean on this day during samudra manthan. As Per Diwali 2011 Calendar: Dhanteras - Monday, 24-October-2011 Chhoti Deepawali - Tuesday, 25-October-2011 Deepawali (Diwali) & Kali Puja - Wednesday, 26-October-2011 Govardhan Puja & Vikram New Year 2067 - Thursday, 27-October-2011 Bhai Dooj / Bhai Phota / Bhav-Bij - Friday, 28-October-2011
Diwali sms
Roshan Ho Deepak Sara Jag Jagmagaye,
Liye Sath Sita Maiyya Ko Ram Jee Hain Aaye, Har Shahar Yu Lage Mano Ayodhya Ho Aao, Har Dwar Har Gali Har Mod Pe Hum Deep Jalaye. Happy Diwali [caption id="attachment_3501" align="aligncenter" width="300" caption=" Happy Diwali "]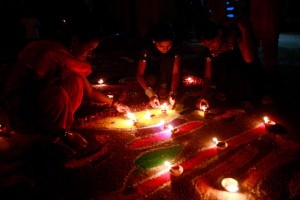 [/caption]
Phool ki shuruvat kali se hoti hai,
Zindagi ki shuruvat pyar se hoti hai, Pyar ki shuruvat apno se hoti hai aur apno ki shuruvat aapse hoti hai. * Happy Diwali *
May the beauty
Of deepavali season Fill your home with Happiness, And may the coming year Provide you with all That bring you joy!
Khub Meete Meete Pakwan Khaye,
Sehat Me Char Chand Lagaye, Log To Sirf Chand Par Gaye Hai Aap Us Se Bhi Upar Jaye, Diwali Par Hamari Yahi Hai Shubhkamnaye
Laksh Divyani Ujalali Nisha Ghevuni Navi Umed,
navi asha Hotil purna manatil sarva Iccha, Diwalichya Tumhala Khup Khup Shubheccha... --- Happy Diwali ---
I Pray to God to give U
Shanti, Shakti, Sampati, Swarup, Saiyam, Saadgi, Safalta, Samridhi, Sanskar, Swaasth, Sanmaan, Saraswati, aur SNEH. SHUBH DIWALI
For this, is a special time when family
And friends get together,for fun. Wishing laughter and fun to cheer your days, In this festive season of diwali and always!!!!!!!! "Happy Deepavali"
Diwali aai, masti chahi, rangi rangoli,
deep jalaye, Dhoom Dhadaka, chhoda phataka, jali Phuljadiyan, Sabko Bhaye, Happy Diwali
Safalta Kadam Chumti Rahe,
Khushi Aaspas Ghumti Rahe, Yash Itna Faile Ki KASTURI Sharma Jaye, Laxmi Ki Kripa Itni Ho Ki BALAJI Bhi Dekhte Rah Jaye, Happy Diwali
Koyal ko awaz
"MUBARAK" Awaz ko sur "MUBARAK" Sur ko sungeet "MUBARAK" aur aap ko hamari taraf se Dhan 13 Rup 14 Or DIPAWALI "MUBARAK"
Pal Pal Se Banta Hai Ehasas,
Ehsas Se Banta Hai Vishvas, Vishvas Se Bante Hai Rishte, Aur Rishte Se Banta Hai Koi Khas, Wishing A Diwali Jhakas
Deepawali hai parv deepo ka
Khushiyon ka apnapan ka achhai ka Ujalo ka Ullas ka Wishing all Very Happy Deepawali.