HinGlish Wife-Husband Jokes
Funny but true fact !! A woman worries about her future till she gets a husband. A man never worries about his future until he gets a wife !! What do u say?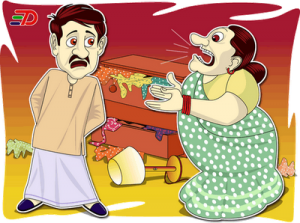 A Man before marriage is - Superman. After Marriage - Gentleman. 5 Years Later - Watchman. 10 Years later - Apne Hi Jaal Mein fasaa hua Spiderman. Life me hamesha Haste raho... Muskrate raho... Gaate raho... Gungunate raho... Taki tumhe dekh kar hi log samaj jaye k tum... "UNMARRIED" ho... Wife: Agar main kho gayi to tum kya karoge? Husband: Main TV aur newspaper mein Ad dunga ki "JAHA KAHIN BHI HO KHUSH RAHO"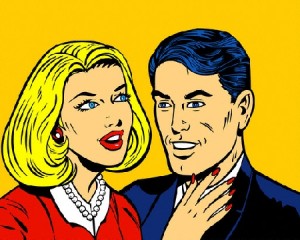 Q: Why love marriage is better dan Arranged? Because "KNOWN DEVIL" is always better than an "UNKNOWN GHOST". Wife: main tumhari yaad mein 2O din mein hi aadhi ho gayi hoon. Mujhe lene kab aa rahe ho? Husband: 2O din aur ruk jaao. A man gave an add in Matrimonial column: "PATNI CHAHIYE" He got 1000 replies all saying: "Meri Le Ja...!" ''Meri Le Ja...!'' Husband to Hotel Manager: Jaldi chalo! Meri biwi khidki se kud kar jaan dena chahti hai Manager: What can I do in that matter? Husband: Kamine, khidki nahi khul rahi hai. Jaldi chal kar khol. Telling a lie is a.... Fault for a little boy An art for a lover An accomplishment for a bachelor... and A life-line for a married man.