Humor Of The Day
Bajaj's new Cheapest Bike for Rs.5000 (like nano)..... !!!!!!!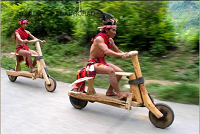 It has been a major hit in the market and is largely responsible for changing the 'Two wheeler maket' It wil be introduced in Indian market in May 2010 ... I hope everyone wil come to office by bike in few days.. Available in following option a) Kick Start b) Electric Start
250 CC Speed + we can increase speed by pedaling
24 hr Free Air Conditoner System
Leg break System as like Disc break in Pulsar
Without doubt it's going to win "Best Bike Of the Year 2009" It has a admire look.. .