Narendra Modi :- Sadbhavana Fast Live
Today isnarendra modi Birthday 17 September 1950 (age 61) Vadnagar, Gujarat, India Narendra Modi is leading politician of Gujarat, from Bharatiya Janata Party, he promotes Gujarat worldwide with his leadership quality and dynamism. Gujarat chief minister Narendra Modi will began his three-day 'sadbhavana' fast in Ahmedabad today. Modi reached the fast venue at around 10 am.
Born in a middle class family in Vadnagar, a member of Rashtriya Swayamsevak Sangh since childhood, and an active politician since early in life having a masters degree in political science. In 1998, he was chosen by the leader of the BJP, L K Advani to direct the election campaign in Gujarat as well as Himachal Pradesh.
[caption id="attachment_2869" align="aligncenter" width="300" caption="Narendra Modi Sadbhavana Fast"]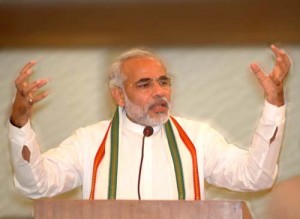 [/caption]
Official Blog site of Narendra Modi http://www.narendramodi.com/
More Information Goes to http://www.narendramodi.in/