Navdurga Sms and messages
Happy Navratri Start 28 Sept- 06 Oct 2011) 1. Maa Durge, Maa Ambe, Maa Jagdambe, Maa Bhawani, Maa Sheetla, Maa Vaishnao, Maa Chandi, Mata Rani meri aur apki manokamna puri karey.. JAI MATA DI.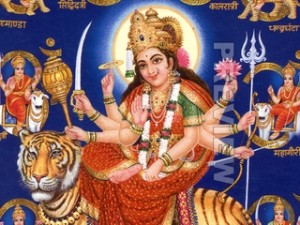 2.N-Nav chetna A-Akhand jyoti V-Vighna nashak R-Ratjageshwari A-Anand dayi T-Trikal darshi R-Rakshan karti A-Anand mayi Maa Nav Durga bless u. May Maa Durga EMPOWER u with her 9 BLESSINGS of Name, Fame, Health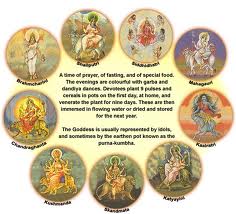 3.Aapi shako to aapni dosti magu chu, dil thi dil no sahkar magu chu, fikar na karo dosti per jaan lutavi dais, rokdo vyavhar che kya, udhar mangu chu… HAPPY NAVRATRI!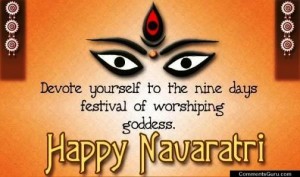 4. This Navratri may you be blessed with good fortune As long as Ganeshji's trunk Wealth and prosperity as big as his stomach, Happiness as sweet as his ladoos And may your trouble be as small as his mouse.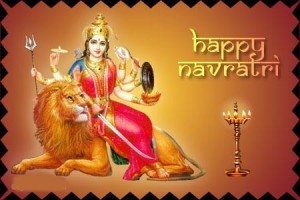 4. Lakshmi ka Hath ho, Saraswati ka Sath ho, Ganesh ka niwas ho, aur maa durga ke ashirwad se Aapke jeevan mai prakash hi prakash ho…. 'HAPPY NAVRATRI'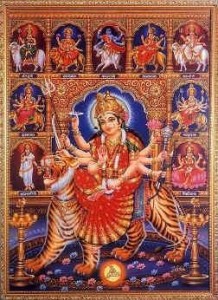 5."Maa ki jyoti se prem milta hai, sabke dilo ko marm milta hai, jo bhi jata hai MAA ke dwar , kuch na kuch jarur milta hai. " SHUBH NAVRATRI.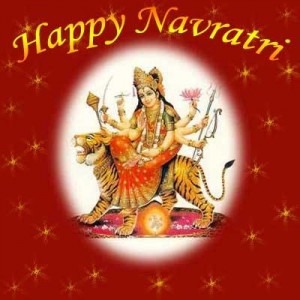 6.Bajre ki roti, aam ka achar, suraj ki kirne, khushiyo ki bahar, chanda ki chandni, apano ka pyar, mubarak ho aapko 'NAVRATRI' ka tyohar.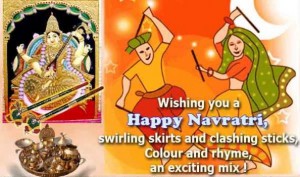 7.Long live the tradition of hindu culture and as the generations have passed by hindu culture is getting stronger and stronger lets keep it up. Best Wishes for Navratri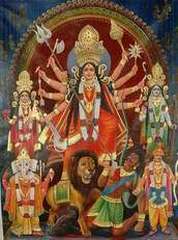 8.Fortunate is the one who has learned to Admire, but not to envy. Good Wishes for a joyous Navratri and a Happy New Year with a plenty of Peace and Prosperity.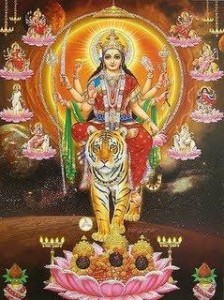 9.PYAR KA TARANA UPHAR HO, KHUSHIYO KA NAZRANA BESHUMAR HO, NA RAHE KOI GAM KA EHSAS; AISA Navratra UTSAV IS saal ho, , . . HAPPY NAVRATRA.

10.May This Navratri be as bright as ever. May this Navratri bring joy, health and wealth to you. May the festival of lights brighten up you and your near and dear ones lives. May this Navratri bring in u the most brightest and choicest happiness and love you have ever Wished for. May this Navratri bring you the utmost in peace and prosperity. May lights triumph over darkness. May peace transcend the earth. May the spirit of light illuminate the world. May the light that we celebrate at Navratri show us the way and lead us together on the path of peace and social harmony "WISH U A VERY HAPPY Navratri"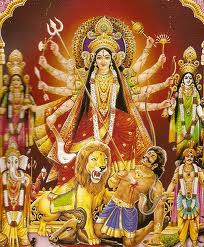 11.May this navratre give u… *shanti *shakti *sampati *swarup *saiyam *saadgi *safalta *samridhi *sanskar *swaasth *sammaan *sarswati aur *sneh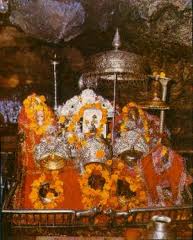 12.Maa durga se vinti hai ki apke jeevan main sukh, samradhe, dhan,yas , Pardhan kare. Happy Navratra